Introduction to Information Retrieval
http://www-csli.stanford.edu/~schuetze/information-retrieval-book.html
「Christopher D. Manning, Prabhakar Raghavan and Hinrich Schu"tze,
Introduction to Information Retrieval
,
Cambridge University Press. 2007.」
の中身が、つまり本一冊分の内容が PDF で公開されている。
A preliminary version of the book is available for download. We
are currently revising individual chapters and will update this
site frequently. The book will remain online after its publication
by Cambridge UP later this year.

ということで、今年後半に出るらしい。
で、出版後もオンライン版は残すつもりとのこと。
素晴らしい!
著者の1人、Prabhakar Raghavan は Yahoo! Research の人
(see
http://www.sem-r.com/15/20050731201335.html
)。
あとの二人、Christopher D. Manning と Hinrich Schutze は、
私の座右の書
「
Foundations of Statistical Natural Language Processing

」
(FSNLP
[2006-04-11-2]
) の著者。
目次:
1 Information retrieval using the Boolean model
2 The dictionary & postings lists
3 Tolerant retrieval
4 Index construction
5 Index compression
6 Scoring & term weighting
7 Vector space retrieval
8 Evaluation in information retrieval
9 Relevance feedback & query expansion
10 XML retrieval
11 Probabilistic information retrieval
12 Language models for information retrieval
13 Text classification & Naive Bayes
14 Vector space classification
15 Support vector machines & kernel functions
16 Flat clustering
17 Hierarchical clustering
18 Dimensionality reduction & Latent Semantic Indexing
19 Web search basics
20 Web crawling and indexes
21 Link analysis
内容はかなり幅広い。SVM や LSI の話もある。
ざっと見たところ、FSNLPと同様、英語はシンプルで、読みやすい。
英語が勉強のさまたげになることはないだろう。
#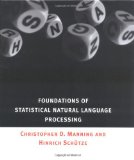 #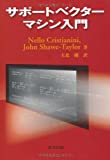 #